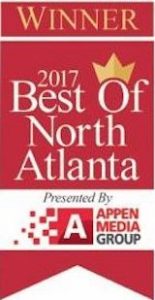 The Millard Law Firm Voted 2017 "Best Law Firm/Services of North Atlanta"
Alpharetta Family Law Practice Named by Residents for Exceptional Service
Alpharetta, Georgia – November 14, 2017 –  The Millard Law Firm, an award-winning family law practice serving the North Atlanta suburbs, today announced that Appen Media Group, Inc., has named them "Best Law Firm/Services of North Atlanta" for 2017 through the media outlet's "Best of the Best" contest.
Appen Media Group Inc., gave readers and North Atlanta residents a chance to vote for their favorite businesses, segmented by category. Despite the many practices in the law firm category, The Millard Law Firm received the most votes.
"We are extremely proud to be recognized as the Best Law Firm in North Atlanta," said Marcy Millard, founding partner of The Millard Law Firm. "Our firm's success is due to the hard work and dedication of our staff to the families we serve and to the greater  community."
This year marks the 10th Annual Best of North Atlanta Awards to highlight the companies that provide exceptional service for their customers and the North Atlanta community. The Millard Law Firm, along with the other businesses that won the "Best of North Atlanta" award, were honored at the 2017 Best of North Atlanta Awards Gala on November 9, 2017 at the Metropolitan Club in Alpharetta.
About The Millard Law Firm 
Located in Alpharetta, GA, The Millard Law Firm focuses solely on family law matters including divorce, custody, child support, adoption and pre-nuptial agreements. The firm was founded in 2007 by Marcy A. Milliard and serves Fulton County, Forsyth County, Cherokee County, Cobb County and Gwinnett County. Call or Contact Us to schedule a free initial consultation.